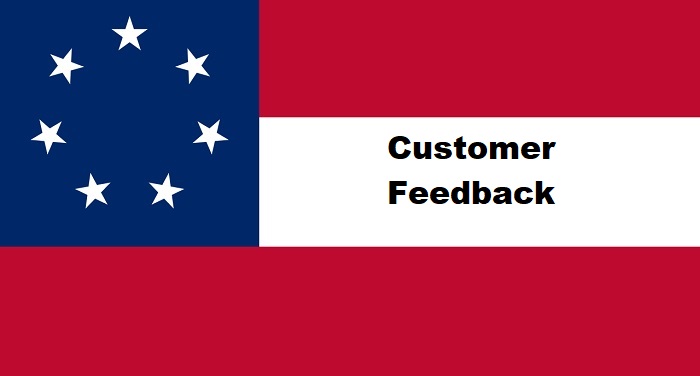 ---
---
Jeremy,
I had looked everywhere for a replica of Arkansas's first state flag from 1913 and could not find one. I was eventually told about Jeremy and his work. Jeremy did an AMAZING job on the flag. It is very beautiful and an excellent addition to my Arkansas collection. I would definitely recommend him and his work to anyone on looking for a well-made historically accurate custom flag!
Darrell W. Brown
---
Jeremy,
The flag [57th Va infy] is o/s and exact in every way. Thank you again for your art work , you really know your [our], southern history.
Thanks,
Richard Owen
---
Jeremy made our Camp two replicas of the 15 Star First National of Bate's 2nd Tennessee. They are extremely well made and matched the measurements perfectly that were provided to us by the Tennessee State Museum where the original is stored. Anyone who gets a flag from Jeremy will not be disappointed. Great flag, great service and very reasonably priced.
Randy Lucas
General William B. Bate Camp 34
Sons of Confederate Veterans
Gallatin, Tennessee
---
Jeremy just completed our Camp Flag for the Captain Francis Asbury Hendry Camp #1284, Sebring, Florida. We are well pleased, The detail is great. Let Jeremy do his "Flag Magic" for you.
Ernie Wasdin
---
After discovering that my GGG Grandfather, J.W. Woodruff, served in the 9th GA Infantry (and was taken prisoner at Gettysburg) I decided to order the battle flag for this regiment. Jeremy did an excellent job with the flag and got it to me in a timely fashion.
Thanks again Jeremy.
Jason W.
---
Hi!
I'm proud to say that were now owners of two perfect flags made out of the original at the museum in New Orleans'. Our 5th Co Washington Artillery here in Sweden ordered them when we found Southern Pride at the Internet. First we received two flags that wasn't what we expected due to a misunderstanding. But Jeremy stood to his word, made two new copies and sent them to us, without extra cost!! And shipping it to Sweden isn't cheap, I recon that that order didn't bring any money to him. Yet does it to satisfy us as a customer. I sure recommend Southern Pride as a maker of your American Civil War flags!
We THANK you Jeremy!
Torsten Hansson 5th Co Washington Artillery Of Scandinavia
---
Jeremy-
I was delighted with the 20th Mississippi Hardee flag that you made for me. The quality and durability of the flag was well worth the price and far superior to anything I could have purchased from a reenactment vendor.
Phil Logan
Centreville, VA.
---
Jeremy:
My Alabama Secession flag arrived today. I am honored and proud to possess this great symbol of the Sovereign State of Alabama. Thank you for the high quality and accuracy of this reproduction flag. Your prompt and courteous service is greatly appreciated. I will recommend your company to all of my museum colleagues.
Ed Merrell
---
Received my 1st National flag in the mail yesterday. After many hours of research with the Museum of the Confederacy in Richmond I found that this was the flag that my GGGrandfathers Batt fought under.
I contacted Jeremy and explained how I wanted my new flag to look and he got it right on the money.
I had to wait a while to receive the new flag but I can tell anyone that orders a flag from Jeremy the wait is well worth it. I will be proud to use this flag with our color guard at Memorial Services and parades.
THANKS JEREMY, job we'll done.
David King Commander Jubal A. Early Camp 556 Tampa, Fl
---
I am extremely pleased with my flag, it is just as I wanted it. Jeremy was excellent to work with and I truly appreciate his input and advice, and staying in communication with me throughout the production.
Thank you,
Jason Huff
---
Received my 1st National and Taylor's Trans Mississippi flags today.
May I say Sir, the work is Outstanding. I am more than pleased.
Jeremy Sir, you my friend are a true Southern Gentleman and a class act.
The CD is awesome. Listening to it now.
Deo Vindice
Davis Rubin
Fort Davis, Nevada Territory
---
I just received my Texas 5th Inf Regt battle flag from Southern Pride and all i can say is that i was completely blown away by the quality,detail and craftsmanship that has been put into my flag.
Jeremy clearly has as much love for his creations as he does for the South..!!
Thank you,
Steve Attenborough
---
This flag is awesome.
Jeremy does so much to make the flags perfect.
Anyone who is looking for their flag to be custom made you came to the right person!!!I
Will pass on info at reenactments to whom made this sharp flag.
Thanks Jeremy!!
I'll be in touch for the 2nd one soon!!
Chad Dodson
---
Received my custom made 3x5 flag a few days ago in the style of the Confederate Naval colors that once flow above the C.S. Steam Ram Arkansas.
Thank you for an outstanding job and very happy with the service!
Richard Bohlman ~ Mississippi
---
The flag is perfect.
We are proud and honored to carry this flag on the field.
It is so great to do

business

with someone with such wholesome values.
Rest assured, everyone will know who made this wonderful flag.
We are honored to have you attached to us.
God bless.
Your brother in arms and Christ
1st Sgt. A. Waters
---
I just want to say, that Jeremy does awesome work and our 1861 Florida Flag looks "AWESOME"!!
Cannot wait to show it off and I will be sure to recommend anyone to him for a flag.
DEO VINDICE.
Thomas Krebs
---
The Republic of North Carolina Flag arrived on Christmas Eve and made my day.
The look, feel, and workmanship make it an instant heirloom.
You can rest assured it will be flown with pride and reverence in honor of the Tarheels that fought in the Second American Revolution.
I forwarded one of your cards to another SCV member in Richmond.
He has a weekly flagging operation in effect to protest the Museum of the Confederacy's decision not to fly the Battle Flag outside that museum or at their other site in Appomattox.
I have a feeling he may need more flags!
God Bless, and Deo Vindice.
Dave
---
Just wanted to thank you for an excellent job.
I was blown away with the quality of your workmanship.
I will tell everyone i know about your company.
I will recommend you to everyone I know.
Captain Robert Smith
---
Thank you Jeremy for the 49th Georgia battle flag you made for me.
I knew from the start I would be getting a good reproduction flag just by looking at the web site.
But it acceded my expectations.
The detail is great.
It is just like the real returned flag they have at the state capital.
Thanks again,
Vince Vaughn
---
Dear Mr. Davis,
I am very pleased and proud of the outstanding job did in making my "Mexican Confederate" battle flag.
The quality is great and the colors are beautiful.
I think this flag well represents and honors our brave Mexican heroes who fought for the Confederacy.
In the words of Colonel Santos Benavides (the highest ranking Mexican-American to serve the Confederacy) on his report of the 1864 battle of Laredo, Texas, (where Colonel Santos Benavides along with only 42 men from his regiment took on 200 men from the Union's 1st Texas cavalry), "There was a brave Mexican man by the name of Juan Ivara who charged right upon an advancing squad of 40 Yankees and compelled them to retreat.
During his charge his horse was shot out from under him but he escaped unharmed."
Let us never forget the brave men like Juan Ivara and other Mexican-Confederates who put their lives on the line and fought for our freedom in the War for Southern Independence!
Thanks again for all the hard work you put into this flag.
¡Viva La Confederación!
Kirby Crabtree
Col. A. M. Hobby SCV Camp #713
---
Thanks for the SC Artillery Flag.
The detail is great.
I appreciate the fine work!
Ron Holt
---
I am very proud of my new 56th Georgia battle flag!
It looks very authentic and I cannot wait to fly it!!
Your dedication and zeal in helping folks like me preserve and proudly display our Southern heritage is VERY much appreciated.
I therefore HIGHLY recommend Jeremy Davis and Southern Pride Flag Company!
C. Derek Barlow
Rabun Gap Riflemen SCV Camp 1929
---
Sir,
I am commander of Camp Moore Camp #1223 in Tangipahoa, La.
Received our camp flag from you the other day.
Just wanted to say I am very impressed with your work.
The flag has a lot of eye appeal to it.
Thank you for your hard work that you put into it.
Already recommended your company to another SCV camp here.
Randy Ritchie
---
Hello,
I presently own two of your extremely high quality reproduction flags.
I have them displayed inside.
They are much too nice to leave out in the weather.
Your love and appreciation for these flags and what they stand for is clearly evident in your workmanship.
Thank you,
Steve Harris
---
I purchased a Trans-Mississippi flag from Jeremy and was extremely pleased at his communication and service.
My flag is absolutely beautiful and well crafted.
It will be used in a documentary about a battle fought in Central Arkansas.
Again, thank you Jeremy for such a beautiful piece of history!
God bless,
Darrell W. Brown
Chaplain,
Gen. Robert C. Newton SCV Camp #197
---
My great great great grandfather was in Nixon's 48th Infantry Regiment.
I asked Jeremy to make up a repro of the flag.
All I have to say is the flag was really nice it was dead on!!
It looked just like the picture of the original.
Great Job!!!!!
Donnie Howell